Barbara's Framed Batgirl Picture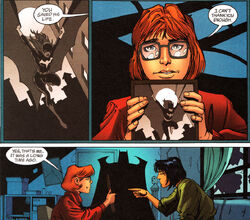 Unable to return to her adventures as Batgirl following her crippling at the hands of the Joker, Barbara Gordon keeps various items of nostalgic value on her computer desks that remind her of who she once was while working as Oracle.
One of these items is a framed black and white picture of herself as Batgirl; possibly taken from a newspaper.
Initially keeping it on her desk in the Clock Tower, she gave it to Cassandra in repayment for saving Barbara's father, James Gordon, from Cassandra's father, David Cain.
In spite of Cassandra now possessing it, the picture stayed on Barbara's desk while Cassandra lived in the Clock Tower. It is unknown wether Cassandra kept the picture when she was relocated to her own Batcave.

In addition to the picture, Barbara also possesses a plushy Batgirl toy that can be seen periodically sitting on her computer towers.
Batgirl Equipment Databank

Ad blocker interference detected!
Wikia is a free-to-use site that makes money from advertising. We have a modified experience for viewers using ad blockers

Wikia is not accessible if you've made further modifications. Remove the custom ad blocker rule(s) and the page will load as expected.