Batboat (Gates of Gotham)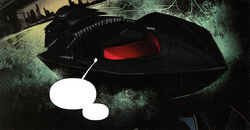 This Batboat was used by Richard Grayson to survey the damage following the destruction of the three bridges leading into Tricorner, known as the "Gates of Gotham".
The boat is shown to be capable of submerging below the ocean waves, turning into a submersible craft.
The boat was later destroyed as Cassandra and Damian use it to tow away a bomb from the Kane bridge.

Equipment Databank

Ad blocker interference detected!
Wikia is a free-to-use site that makes money from advertising. We have a modified experience for viewers using ad blockers

Wikia is not accessible if you've made further modifications. Remove the custom ad blocker rule(s) and the page will load as expected.