Batwing (City of Light)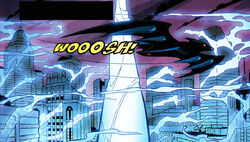 Aside from being shown to be capable of stationary hovering, not much is seen of this craft's capabilities as it only appears in two panels.
It was used as Batgirl (Cassandra Cain) was thrown out of Slate Tower I during the City of Light crisis. While hanging from the side of the building she had used the craft to travel to the building's spire where Batman awaited.

Equipment Databank

Ad blocker interference detected!
Wikia is a free-to-use site that makes money from advertising. We have a modified experience for viewers using ad blockers

Wikia is not accessible if you've made further modifications. Remove the custom ad blocker rule(s) and the page will load as expected.