Beacon Tower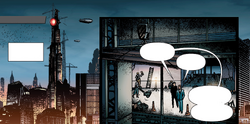 The Beacon Tower is a multi-story skyscraper, at least eighty-two stories high, built in down-town Gotham City.
A major part of Bruce Wayne's urban renewal project, the tower's construction began on the eave of Cluemaster (Arthur Brown)'s plan to kill the Batman. During the final stages of construction, the project was attacked by the Architect (Zachary Gate), who had redesigned the tower to act as a tuning rod to start an earthquake. While foiled by Batman, the tower's architect, Andrew Trondsen, was killed by Hush (Thomas Elliot).
After Commissioner Jason Bard refused to release James Gordon from prison despite Batgirl finding evidence to prove his innocence, Batgirl deduced that Bard was corrupt and abducted him before starting an hour-long game of "Catch-and-Release"; dropping him over the side of the Beacon Tower before catching him again. The incident injured Bard's leg, giving him a permanent limp.
At their plan, Cluemaster took control the finished tower and lured Batman to kill him, however, he was betrayed by Lincoln March; his partner in crime, who was in turn defeated by Batman and his associates.
The project's architect is officially Andrew Trondsen, however, Architect (Zachary Gate) was used as a consultant for the building's design.
The building has a bat-signal located above the beacon light for which it is named.
Information Databank

Ad blocker interference detected!
Wikia is a free-to-use site that makes money from advertising. We have a modified experience for viewers using ad blockers

Wikia is not accessible if you've made further modifications. Remove the custom ad blocker rule(s) and the page will load as expected.