Blockbuster's Penthouse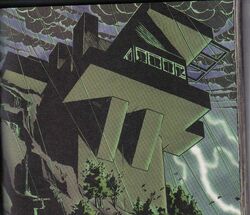 Owner: Oswald Cobblepot
Designation: Private Residence
Affiliation: Civilian



Brief:
The private residence of Roland Desmond, also known as the criminal kingpin Blockbuster, this penthouse is situated overlooking the city of Bludhaven from atop a cliff on Avalon Heights. It initially belonged to Bludhaven crime boss Angel Marin until Blockbuster killed him and took over his empire.
Following Blockbuster's death, his considerable holdings reverted to the control of his attorney, Calvin Westbrook, who in turn passed ownership over to the Oswald Cobblepot who, after abandoning Gotham following the Gang War, placed himself as the new kingpin of Bludhaven's criminal underworld.
The penthouse was destroyed along with the rest of Bludhaven during the events of the Infinite Crisis.
During a confrontation between Blockbuster and Nightwing and Batman, the penthouse's support struts were destroyed and part of the house fell down the hill. It was later rebuilt as Blockbuster recuperated from the ordeal.
Following his takeover, the Penguin had Blockbuster's body stuffed and mounted, to be displayed in the penthouse's foyer for visitors to see.
Location Databank

Ad blocker interference detected!
Wikia is a free-to-use site that makes money from advertising. We have a modified experience for viewers using ad blockers

Wikia is not accessible if you've made further modifications. Remove the custom ad blocker rule(s) and the page will load as expected.