Bruce Wayne's Last Cowl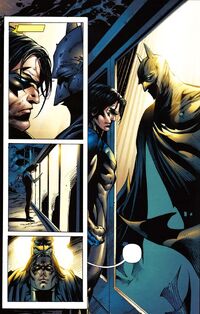 Thought to be the cowl worn by Bruce Wayne when he was "killed" in a confrontation with Darkseid during the Final Crisis. Bruce Wayne's last batsuit actually refers to two suits; one worn by Bruce as he was thrown through time by Darkseid's Omega Sanction and one worn by the corpse of a Bruce Wayne clone that Darkseid had the Earth's population believe was Bruce.
The cape and cowl of the suits are prominantly displayed as Bruce Wayne's spiritual presence in proceedings after the Final Crisis. With the cape and cowl of the clone being displayed alongside the other batsuits as a memorial that Richard Grayson would constantly return to and ultimately forge his own decision to become the new Batman, while the cape and cowl of Bruce missplaced in time would become a holy relic of the Miagani Tribe from the prehistoric era onwards, enshrined in the caverns that would eventually become the Batcave. The latter cape and cowl would eventually be discovered by Grayson and excavated to the JLA Watchtower satellite where it was discovered to be drenched in the Omega Sanction.
Both cowls had distinguishing holes in the cranium where Darkseid's minions had inserted probes during Bruce's incarceration in the Command-D Bunker.
Equipment Databank

Ad blocker interference detected!
Wikia is a free-to-use site that makes money from advertising. We have a modified experience for viewers using ad blockers

Wikia is not accessible if you've made further modifications. Remove the custom ad blocker rule(s) and the page will load as expected.