Cassandra's Journal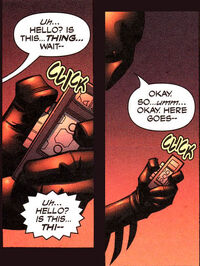 As instructed by Batman (Bruce Wayne), Cassandra begins keeping a voice diary of her cases on the eve of leaving for Bludhaven.
Recorded using various voice recorders, Cassandra's journal possesses notes on her cases as well as personal comments and realizations as she adjusts to her new life in Bludhaven.
It is unknown wether she continued the journal following Bludhaven's destruction.





Batgirl Equipment Databank

Ad blocker interference detected!
Wikia is a free-to-use site that makes money from advertising. We have a modified experience for viewers using ad blockers

Wikia is not accessible if you've made further modifications. Remove the custom ad blocker rule(s) and the page will load as expected.