Catwoman's Penthouse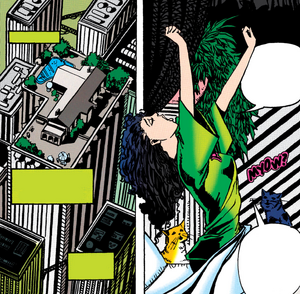 Catwoman's Penthouse is an unnamed penthouse Selina Kyle resided within between the Zero Hour incident and the Cataclysm earthquake. Located at the top of a multi-story building, it is unknown if the building and the penthouse survived the earthquake.
The penthouse originally belonged to Guido Bertinelli when he was ruler of the Gotham mafia families. Rumor had it that it was one of many locations he used for people or merchandise too "hot" to stash at home.
Upon her arrival, Selina converted the apartment's saferoom into her den where she kept her gadgets, costumes and various propaganda that are too "hot" to display in the penthouse.
While the building's address number is "104" it is never revealed what street the building is on, or what district of Gotham City it resides within.
Selina kept a total of 19 cats in the penthouse, all of which she had to put into a shelter in New Jersey when Gotham was declared a No Man's Land and evacuated.
Location Databank

Ad blocker interference detected!
Wikia is a free-to-use site that makes money from advertising. We have a modified experience for viewers using ad blockers

Wikia is not accessible if you've made further modifications. Remove the custom ad blocker rule(s) and the page will load as expected.