Chaney's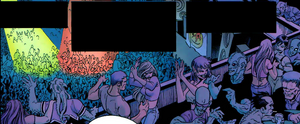 Owner: Unknown
Designation: Nightclub
Affiliation: Civilian
First Appearance:
Outsiders #1 (2003)


Brief:
Chaney's is a nightclub located in the underbelly of Metropolis where metahumans, extra-terrestrials, mutants, advanced humanoids and other beings of both moralities mix.
Lauded as the most popular metahuman club in North America, while not a haven or sanctuary, the club is able to operate as such due to five rules (No Fighting, No Powers, No Fighting, No Costumes, No Fighting) which are heavily enforced by its security "bouncers".
Location Databank

Ad blocker interference detected!
Wikia is a free-to-use site that makes money from advertising. We have a modified experience for viewers using ad blockers

Wikia is not accessible if you've made further modifications. Remove the custom ad blocker rule(s) and the page will load as expected.