Joker's Last Laugh
Joker's Last Laugh was a global event that occured after the Joker was informed that he had an inoperable temor in is brain that would kill him within a matter of months.
Intending to "go out with a bang", the Joker infects the entire prisoner population with poison, turning them into replicas of himself, and begins a rampage across the globe that ends at the Gotham Cathedral in Gotham City.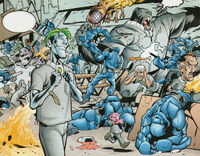 Annoyed with the Joker, Doctor Clyde falsifies the Joker's CAT Scans to make it look like he has a tumor.
Doctor Keating informs the Joker that he has an inoperable tumor in his brain.
Richard Grayson and Barbara Gordon go out for dinner.
Intending to destroy the world before he dies, the Joker insites a roit in the Slabside Penitentiary.
As security engages the regurgitant collars, the Joker starts killing Multi-Man in order to have him resurrect with a useful power.
The Black Canary and Blue Beetle enter the Slab to stop the roit.
Shilo Norman, the former Mister Miracle and now head of Slab security, and U.S. Marshall Dina Bell arrive to back up Slab security.
The Joker uses the Multi-Man to break into the penitentiary's lower floors to free Polaris, who in turn frees the metahumans of their inhibitor collars.
The Slab wardens activate the Metagene inhibitor gas, however, the gas along with the regurgitant compound causes the inmates to become Jokerized.
Richard Grayson and Barbara Gordon return to the Clocktower.
Batman and Nightwing infiltrate the Slab.
The Joker frees and Jokerizes the female inmates.
Shilo Norman and Dina Bell attempt to secure the Slab's undersea escape tunnel but run into a freed King Shark and Orca.
Nightwing enters the Slab.
Shilo loses his Mother Box while escaping and the box is picked up by Slig.
Batman and Nightwing meet up within the Slab and discover Black Canary still alive.
A Jokerized Black Mass throws the entire Slab into a black hole. Batman, Nightwing, Black Canary and Blue Beetle escape.
The JLA return from Ranagar and discover the Joker's breakout.
Batman and Nightwing scour the Joker's old hideouts in search of him.
The Joker "retires" on Easter Island.
Grundy defaces the Easter Island Maoi for the Joker.
Effigy defaces Mount Rushmore.
President Luthor meets with his cabinet.
Joker has Floronic Man deliver Baby's Breath flowers to James Gordon. Woodrue collapses as he delivers them.
Chemo spills toxins in Lake Ontario.
Joker becomes concerned about leaving an heir to his legacy after he dies and sends out word to capture Harley Quinn.
Oracle sends Batgirl and Spoiler to fend off Jokerized villainesses from Harley until Power Girl arrives.
President Lex Luthor declares deadly force to be used against Joker and his Jokerized villains.
Power Girl delivers Harley Quinn to S.T.A.R.Haven where she and Kirk Langstrom begin working on an antidote for Joker's poison.
Oracle starts considering killing the Joker to finally end his threat on the world.
Joker decides to start his on Crisis.
Shilo and Dina embark to find Black Mass and return the Slab to Earth.
Kirk Langstrom deduces that the Joker poison is killing the villains.
The United States Military take down Cerberus and the matter Master in Midway City, defeated Captain Nazi in Dresher and cleared out Hub City.
Militia defeats White Dragon, Killbore and Warjack in Atlanta with Lady Blackhawk.
Joker sends an army of Jokerized villains to the White House to kill Lex Luthor.
Black Canary discovers that the Joker's tumor is not real.
Shilo and Dina encounter Mister Mind who offers to help them get back to Earth.
Harley Quinn creates an antidote and uses it on Doctor Sivana, who is cured of Joker's poison.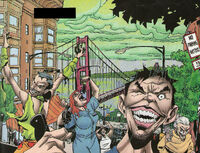 Joker sends his armies against Atlantis, the White House, Blackgate, Iron Heights, Stryker's Island and Arkham Asylum as he creates country-wide Jokerized Rain.
Oracle sends the Huntress to Arkham Asylum to backup Robin.
Killer Croc captures Robin before Huntress can find him.
Batman, Martian Manhunter and Plastic Man arrive on Easter Island and find the Joker's To-Do list.
Joker captures Nightwing and staples a message to Batman on his chest to meet him at the Gotham Cathedral.
Shilo and Dina encounter Multi-Man and start killing him in order to get him to reanimate Black Mass' body.
The Joker prepares to face Batman in the Gotham Cathedral.
Huntress discovers Robin's tattered tunic amongst bones in Killer Croc's lair and reports his death to Oracle.
Nightwing overhears Huntress' report and leaves to kill the Joker.
Batman, after securing Arkham Asylum, leaves to stop Nightwing.
Nightwing nearly kills the Joker but for the intervention of Robin, who arrives to also stop him.
Shilo and Dina have Multi-Man reanimate and Mister Mind control Black Mass to bring The Slab back to Earth, reappearing at Antarctica.
Information Databank

Ad blocker interference detected!
Wikia is a free-to-use site that makes money from advertising. We have a modified experience for viewers using ad blockers

Wikia is not accessible if you've made further modifications. Remove the custom ad blocker rule(s) and the page will load as expected.