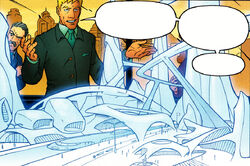 The brain-child of Evan Slate, Neo-Gotham was a design proposal of a city without crime; a luminous city with a "psycho conscious" design. Due to the natural luminousence of the buildings, Neo-Gotham would eliminate shadows both night and day where crime would proliferates.
The city would begin developement by using Evan Slate's Tower One as a central point with two other towers forming a trinity from which Slate's special phophorescent material would begin covering existing Gotham buildings until the entire city was integrated into the design.
Due to the DNA based material the city would be what was known as a 'living city'. Capable of protecting itself from threats as well as controlling crime. However, due to the outlandish nature of the proposal, and the events surrounding the concept's attempted implementation, the concept was debunked.

Information Databank

Ad blocker interference detected!
Wikia is a free-to-use site that makes money from advertising. We have a modified experience for viewers using ad blockers

Wikia is not accessible if you've made further modifications. Remove the custom ad blocker rule(s) and the page will load as expected.