Robinson Park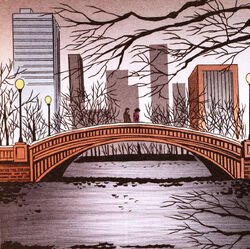 Established in 1782, Robinson Park is the largest park in Gotham City, covering an area of three hundred acres in central Gotham.
The park included an Alice in Wonderland statue near its entrance gates, a statue of a rifle-wielding soldier on horseback near its south gate, and also hosted the periodic Robinson Park Carnival. A statue representing the civilian heroes of No Man's Land was also unveiled following the city's restoration.
The park also possesses a Greco-roman amphitheatre that was used during Gotham's gang war by Batman and the GCPD to corral the gangs into one location.

Robinson Park first appeared in Batman #404 (February 1987).
Poison Ivy took control of the park during the No Man's Land year but was eventually forced out by Batman and the Gotham City Police Department one year after the NML edict was lifted.
Batman built one of his Satellite Batcaves underneath the park's reservoir.
Location Databank

Ad blocker interference detected!
Wikia is a free-to-use site that makes money from advertising. We have a modified experience for viewers using ad blockers

Wikia is not accessible if you've made further modifications. Remove the custom ad blocker rule(s) and the page will load as expected.