The Factory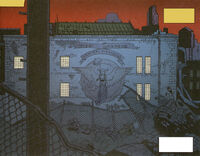 The Factory is a derelict factory located on the outskirts of Somerset, New Jersey.
Used as the headquarters for the black ops team, Justice League Elite, the factory is divided into sectioned areas devoted to the use of its various members; most notable of which is a large area where Manitou and Dawn Raven's tent is erected and an area where Kasumi keeps her arsenal of bladed weapons. A communications and tactical hub as well as meeting rooms for team business are also available.
Following the team's dissolution, the factory was emptied and abandoned.

Location Databank

Ad blocker interference detected!
Wikia is a free-to-use site that makes money from advertising. We have a modified experience for viewers using ad blockers

Wikia is not accessible if you've made further modifications. Remove the custom ad blocker rule(s) and the page will load as expected.