The House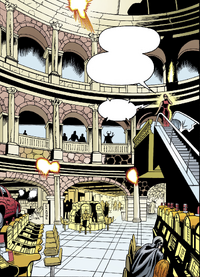 Owner: Roulette (Veronica Sinclair)
Designation: Illegal Casino
Affiliation: Roulette
First Appearance:
- JSA Secret Files #2 (September 2001)


Brief:
The House is a secret superhuman gladiatorial arena run by Roulette (Veronica Sinclair). Catering to villains, the House operators through capturing heroes with teleportor technology and pitting them against each other in modified arenas, while various supervillains bet on the outcome.
Roulette originally ran the arena with her husband, but when she caught him cheating on her, she transformed him into a manbat and let him roost within one of the arenas.
A wall of fallen heroes is the only indication of the many heroes have been killed in battle in The House. The names include Impala, Maxi-Man, Ram of the New Guardians, and the Hybrid (minus Pteradon).
Location Databank

Ad blocker interference detected!
Wikia is a free-to-use site that makes money from advertising. We have a modified experience for viewers using ad blockers

Wikia is not accessible if you've made further modifications. Remove the custom ad blocker rule(s) and the page will load as expected.