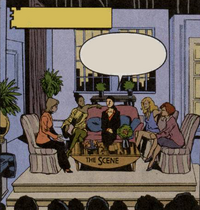 The Scene is an American talk show and infotainment program that is filmed at the WBAS studio in Central City as part of its daytime programming block.
The show focuses on a panel of five female co-hosts, who discuss a variety of social and political issues; news items ranging from social and political issues to tabloid headlines and celebrity news.

Information Databank

Ad blocker interference detected!
Wikia is a free-to-use site that makes money from advertising. We have a modified experience for viewers using ad blockers

Wikia is not accessible if you've made further modifications. Remove the custom ad blocker rule(s) and the page will load as expected.