White House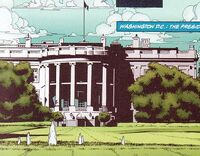 The White House is the official residence and principal workplace of the President of the United States.
Located at 1600 Pennsylvania Avenue NW in Washington, D.C., the house was designed and built between 1792 and 1800 and has been the residence of every U.S. President since John Adams.
The complex includes the Executive Residence, West Wing, Cabinet Room, Roosevelt Room, East Wing, and the Eisenhower Executive Office Building, which houses the executive offices of the President and Vice President. The White House includes: six stories (4 floors and 2 basement levels) and 55,000 ft² (5,100 m²) of floor space, 132 rooms and 35 bathrooms, 412 doors, 147 windows, twenty-eight fireplaces, eight staircases, three elevators, five full-time chefs, a tennis court, a (single-lane) bowling alley, a movie theater, a jogging track, a swimming pool, and a putting green. It receives about 5,000 visitors a day.
Location Databank

Ad blocker interference detected!
Wikia is a free-to-use site that makes money from advertising. We have a modified experience for viewers using ad blockers

Wikia is not accessible if you've made further modifications. Remove the custom ad blocker rule(s) and the page will load as expected.