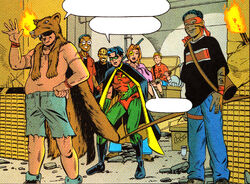 The Wolflings are a small tribe of Gotham youth, living in the Gotham Sewers during the city's No Man's Land.
Led by Corey Windmere (known in the group as "Aragoth, Lord of the Sewers" the group seemed to be play acting as if they were in a Dungeons and Dragons adventure. Other members include "Bella the Healer" (real name Shondra Reifsnyder) and a boy named "Windrider".
Timothy Drake ran into the group as Robin while searching for a suspected stash of surplus somewhere in the sewers.

Information Databank

Ad blocker interference detected!
Wikia is a free-to-use site that makes money from advertising. We have a modified experience for viewers using ad blockers

Wikia is not accessible if you've made further modifications. Remove the custom ad blocker rule(s) and the page will load as expected.